Our first get together was June 2009 in the house of Tom & Jo where a supply of finger food and deserts were provided, to encourage people back, ha,ha,ha....... We met the following month and the club was formed in July 2009 and the following positions were taken up....

Chairman – Andrew Dunne (forum username : Stan)
Secretary – Tom Brecknell (forum username : Tom)
Treasurer – Jo Brecknell (forum username : Jo.)
Public Relations - Tim Kruger (forum username : frontosa)

Ordinary Committee Members
Damien Byrne, Noel Lambert, Darren McKenna, Niall Moran & Lar Savage.

Our next task was to find a venue, and Darren stepped up to the mark again and found us Tracey's Thatch Pub/Restaurant on the old Dublin – Portlaoise road (N7). It's about 5 minutes from Portlaoise.

We decided to have our meetings on the Second Wednesday of each month at 8.00pm sharp in our new permanent venue.

Our first meeting in our new venue was attended by Derek Doyle (Irelands top and most experienced fish judge) and he had this to say after the meeting.

'I attended the I.M.A.S. meeting at the Thatch Pub in Laois last night and was really impressed with the enthusiasm and fresh ideas of all concerned. It reminded me of my early days with the I.T.F.S. It was great to put names to faces and meeting all the lads, some for the first time.
I visited Tom and Jo earlier and was most impressed with their tanks set ups, esp. a large display of healthy and active Malawi's. They also have nice Tangs and Catfish. As always Tom and Jo were great hosts and fed me well.
On the way to the club meeting we called into Tim and he also has some great fish including a cracking colony of Blue Frontosa and lovely Gold Occelatus. Anyway thanks to everybody for a great night and I hope to attend again in November.

Derek.'

We were now planning for our first club trip to Duisburg, Germany, in October 2009. In the end, four of us went on the trip, and it was a great experience for us all. We arrived on an early flight so we could make the most of the day, our first stop was in the car rental office, an of course they didn't have the car we ordered and we got stuck with an S Class Mercedes', oh poor us!

We then drove to the Exhibition Hall in Duisburg to try and get ideas for accommodation as we had nothing organized, after Tim going around a few of the exhibitors we got the name of a place near by. The GPS in the car was put into good use and we found the place, it didn't look great from the outside and we were deciding whether we should go in or not, we were very happy we decided to go in. When we were waiting in the reception one of the guests seen our I.M.A.S. badges and started talking to us, what a great chance meeting it turned out to be. It was the world famous Anton Lamboj who was at the exhibition to talk about West African Cichlids, we arranged to meet him that evening for dinner. It was a great evening, and we got to meet more fish people.

Wild caught, rare fish and dry goods were acquired during our trip and all were safely shipped to Ireland.

Hotel Landhaus, Duisburg, Germany

Our first meal at the Hotel Landhaus, Duisburg, Germany with Anton, a good night was had by all..........
---
The Cichlids of the Ornamental Fish & Aquarium Show in Duisburg, Germany, took place in the 6,000 square meter (65,000 square feet) exhibition hall in the Landscape Park, Duisburg-North, where manufacturers, traders, etc. can set up stands to present everything that a fish keeper might need. These included Tatra, Eheim, Sera and Hagen, just to name a few. The very latest commercial fish foods were on offered, and even the basics such as live food like Daphnia and White-Worm Cultures were available
.
Check out our Photo's & Video's.
Jo and Noel with their I.M.A.S.
T-Shirts in the foreground and Tim taking a photo of the fish in the massive tank behind them.
---


You have to visit Zoo Zajac (www.zajac.de) it's about 5 minutes from the show in ever bigger premises. It's not just a fish shop, you can get nearly anything imaginable here. You could spend hours just going around looking and you still won't see everything, we visited every day of our stay and still only seen a fraction of the place. (A small area picture below)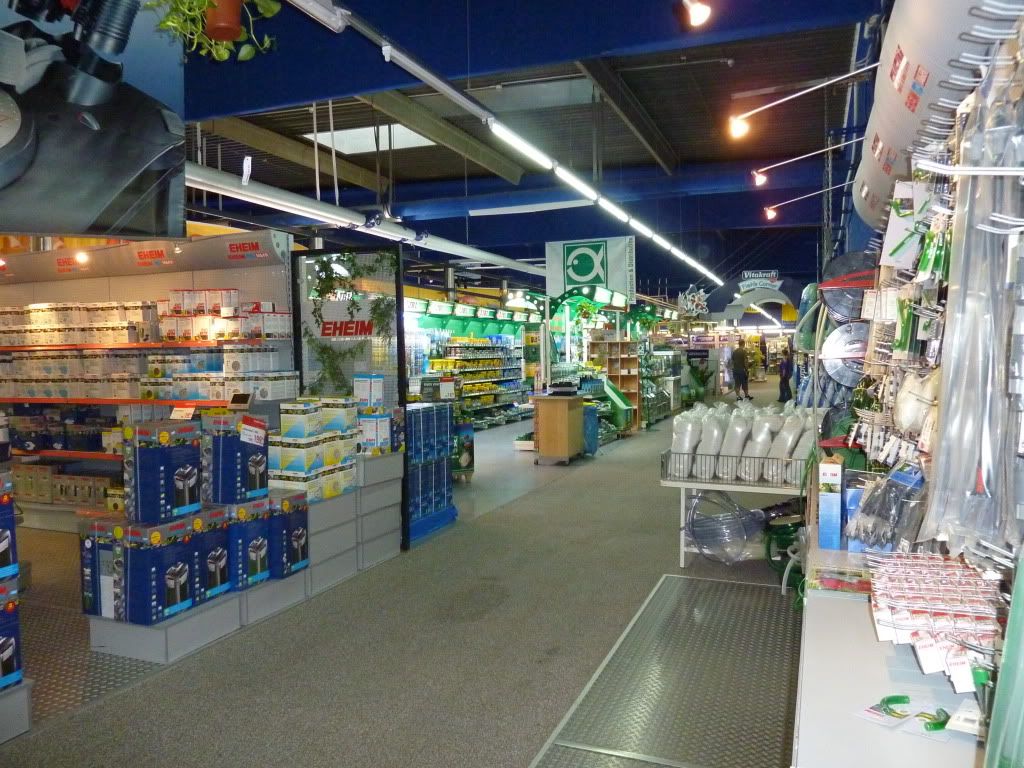 The club started to grow and go from strength to strength, with new Members like Avril Lane, Katherine and Joe Watson joining the fold, Derek Doyle was made an Honorary Member of the I.M.A.S. for all the help and hard work he's put into fishkeeping in Ireland over the years................

At our AGM January 2011 a new committee was elected and the following positions were filled.
Chairman – Andrew Dunne (forum username : Stan)
Secretary – Joe Watson (forum username : joey)
Treasurer – Avril Lane (forum username : Bella)
P R - Tim Kruger (forum username : frontosa)